The Connect and Do website now hosts a 'Stories' section, featuring videos that celebrate the positive effect of Peer Support initiatives.
Use the following link to Kanchan Jati's story (filmed by Daniel Campbell, Community Connecting Network Coordinator) as she shares her life experiences, taking you on a personal journey of loss and isolation transformed into one of hope and a feeling that mental health services had helped her to 'get my life back'
Click here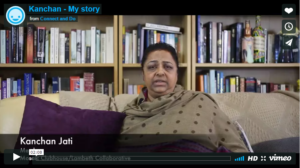 Each month the website will spotlight an activity that is using Peer Support to bring people together to engage around shared interests. This month focuses on 'Art Mondays' at the Connect and Do space at 107 Railton Road. The sessions are taking place every Monday until March the 13. Use this link to find out how you can get involved:
http://www.connectanddo.org/art-mondays-at-the-connect-do-space/
Click here for The Lambeth Peer Support Network programme of events for February. Workshops are free to attend and don't require pre-event registration so it really is as simple as turning up on the day. All Welcome!
More information or to tell your story contact: DCampbell@certitude.org.uk